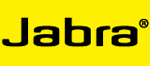 Jabra is a leading worldwide supplier of high-quality corded and wireless headsets and related products. Jabra's knowledge of the contact centre, office, and mobility markets allow production of appealing headset solutions for contact centre clients and all types of users to reduce stress and improve productivity.


Categories

Accessories

Audio enhancers, Unified Communications enablers, remote call control adapters – in short, everything you need to tailor your headset to your needs.

Corded

Jabra corded headsets provide the very best frequency response.

Moble

Jabra produces a wide range of stylish wireless headsets that give you the freedom you need for modern communication.

Unified Communications

Unified Communications integrates technologies such as voice, email and instant messaging and facilitates enhanced productivity and collaboration by unifying and streamlining the way we communicate.

Wireless

Jabra headsets are famous for their outstanding sound quality, robust design, and exceptional comfort.